A Closer Look into "Service" Animals in Landlord-Tenant Contexts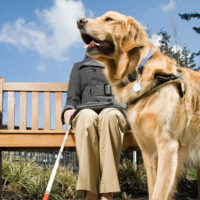 A common issue that comes up in landlord-tenant disputes involves pets in rentals. We've previously discussed what minimum requirements laws such as the Americans with Disabilities Act generally cover, however, we have not gone into depth on what, exactly, this means, especially for landlords with a no-pet policy who are specifically approached about an emotional support or service animal.
It may surprise you to find out that a good percentage of rental units are occupied by individuals that are considered "disabled" under the law. This means that their housing falls under the protection of the Americans with Disabilities Act and the Fair Housing Amendment Act, which requires landlords to make "reasonable accommodations."
"Reasonable Accommodations"
What does "reasonable accommodation" mean, exactly? According to federal agencies, it covers an adjustment, change, or exception that may allow someone with a disability with the opportunity to "use and enjoy a dwelling… including a common space." This includes reasonable accommodations "for service animals" specifically.
"Service Animals"
That leads us to ask how the law defines a "service animal:" According to the Fair Housing Amendment Act, it is "any animal that assists someone who is disabled."  This usually means service dogs that are trained to help mentally or physically disabled individuals, but it can also include other animals. Still, most service animals are dogs that fit in at least one of the following categories:
Dogs trained to help individuals who suffer from autism;
Dogs trained to assist individuals with multiple disabilities, such as guide dogs that assist with mobility;
Hearing dogs who are specifically trained to help deaf individuals;
Mobility assist dogs who can pull wheelchairs, carry items, retrieve items, open doors, etc.;
Psychiatric service dogs that help individuals with mental disabilities; and
Seizure alert dogs, which not only covers dogs that are trained to respond if someone goes into a seizure, but can detect when individuals with diabetes, for example, might be suffering from low blood sugar and could go into a seizure.
What Landlords Can & Cannot Ask
If you are a landlord, keep in mind that you are prohibited from asking specific questions about someone's disability while seeking to make accommodations for their service animal—for example, asking to see proof of the disability via medical records.
So what are you allowed to ask, as a landlord? Your questions are limited to a) whether or that the individual's animal is, in fact, a service animal, and, b) if so, what type of service the animal provides.
However, keep in mind that the same policy does not apply to emotional support animals: Because these animals are not covered under the Americans with Disabilities Act and are not officially service animals, landlords are allowed to ask for a doctor's note attesting to the fact that the animal is necessary for the individual's emotional support.
Contact Our Florida Landlord-Tenant Attorneys with Any Questions
If you are landlord or tenant in Florida and have any questions as to what is and is not legal, contact our experienced Florida landlord-tenant attorneys at Moran, Sanchy & Associates today to find out how we can help.
Resource:
lcsun-news.com/story/money/business/2019/02/10/you-landlord-no-pet-policy-you-may-have-make-exception/2831494002/