Estate Planning for Land & Heirs' Property Loopholes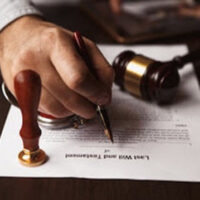 As Florida attorneys who assist clients with estate planning, we talk a lot about planning for the future when it comes to your income, assets, and accounts. But what about land? Land that is passed on without a will face as a number of complications; it becomes what's known as heirs' property, whereby your beneficiaries only inherit an interest, like stock in a company.
Given that no one ends up with the title to the land if this happens, they are then vulnerable to developers and speculators who want to acquire the property, it is not an ideal way to plan for passing on land to your beneficiaries. Below, we discuss some methods you can use to close some of these heirs' property loopholes:
Protecting Heirs' Land
In order to protect heirs property make sure that you:
Prepare a will or the equivalent of a transfer on death deed in Florida, which is known as an enhanced life estate deed or "lady bird" deed, which functions very similarly to a transfer on death deed;
Make sure that all of your property taxes are paid;
Track down the names on your deed and track each generation of heirs that follows;
Do what you need to do to create a paper trail to prove your ownership, especially if you inherited your property without a will or any form or estate proceedings;
If the land has been distributed among several heirs, consider asking those heirs if they would be interested in transferring their interest in the property;
Speak with an attorney about potential he creating a Land trust or family LLC; and
Make sure that you track all of your expenses.
Note that Florida never passed the Uniform Partition of Heirs Property Act, however, the 2018 (federal) Farm Bill created various programs that provide assistance to heirs' property owners.
Special Laws in Florida
In addition, Florida has some laws that some would argue are more protective of heirs' rights than even the Uniform Partition of Heirs Property Act: Specifically, state law permits any beneficiary or personal representative of an estate to petition the court to partition property in order to distribute it. The court can then direct the personal representative to sell any portions that cannot be partitioned or split equitably. In this case, note that, Florida law requires formal notice such that heirs have 20 days' notice to respond to the petition. 
Contact Our Sarasota Estate Planning Attorneys
It is important to have a will covering a number of things that you own in your life, including land. Sit down with one of our Sarasota wills & probate attorneys at Suncoast Civil Law today to complete a review of what your estate plan should include.
Resources:
leg.state.fl.us/statutes/index.cfm?App_mode=Display_Statute&Search_String=&URL=0700-0799/0733/Sections/0733.814.html
floridabar.org/the-florida-bar-journal/the-uniform-partition-of-heirs-property-act-a-solution-in-search-of-a-problem/
https://www.moransanchylaw.com/estate-planning-for-your-business/