The Eight Most Essential Estate Planning Steps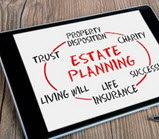 You might be surprised to find out that six in 10 adults haven't yet drawn up basic estate planning documents, such as a will or durable power of attorney. However, this is one of the most important steps you can take to ensure that you and your loved ones are protected, should something happen.
Below, we discuss the most important steps you should take in order to build a basic estate plan in order to protect your interests: 
Find a Good Attorney & Draw Up a "Map"
First and foremost, ensure that you work with an experienced estate planning attorney, and one that's right for you. While do-it-yourself software may seem cheap, if there are mistakes in your documents, or anything is found to be vague or contradictory to state law, they can be found invalid in court. One-size-fits-all templates from universal software programs aren't always going to be in-keeping with caveats and recent changes in state law, and they also aren't necessarily going to be equipped to handle particular or customized interests specific to your family.
You and your attorney will also want to create a kind of "user manual" for your designated executor or trustee that spells out all of the information necessary to carry out your wishes and includes a list of all assets and accounts, information on where to find everything, contact information for your attorney and any financial advisors, and any crucial passwords. Original documents should be kept in a bank deposit or home safe, and your attorney should have a copy as well.
Draft Your Will
Put simply, a will spells out what you want to happen to your assets when you die, and appoints an executor of your estate to carry out these wishes. If you have minor children, it can also name a guardian for those children. Without having a will in place, you die "intestate," and your beneficiaries are designed based on what state law dictates.
In addition, an advance directive—also known as a living will—describes what medical procedures you do and do not want and your wishes for end-of-life care.
Consider a Trust
A living revocable trust is appealing to many because it does not go through probate and therefore serves as a way for your assets to be transferred immediately. The most important step in the process is for you and your attorney to title the assets to the trust so that they are owned by the trust and can be passed onto your loved ones, although keep in mind that you retain control over those assets while you are still alive. Note that you still need a will, however, to ensure that any assets that were not  titled in the trust before you passed make their way into the trust (as well as to accomplish other objectives, such as naming a guardian for your minor children, etc.).
Durable Power Of Attorney & Healthcare Proxy
Durable power of attorney is another important document you want to put in place with the help of your attorney. It designates an individual to manage affairs on your behalf, should you become incapacitated and no longer able to handle your finances. Similarly, a healthcare proxy (also known as a durable power of attorney for healthcare) does the same for major medical decisions. You and your attorney should make sure that your healthcare proxy includes a "HIPAA" release clause, which allows your designated individual to have access to medical information that will otherwise be kept private.
Contact Our Florida Estate Planning Attorneys to Draft or Update Your Documents
Another very important step you want to take regularly with your attorney is reviewing your beneficiaries and updating your documents (including brokerage accounts, insurance policies, and retirement plans) so that they are always up-to-date. You might be surprised at how many times we've seen estranged relatives inherit long-forgotten accounts because inheritance documents were not updated to reflect updated wishes, such as a new spouse or young children. Not all financial institutions will automatically void an ex-spouse when it comes to passing on your accounts.
Contact our experienced Florida estate planning attorneys at Suncoast Civil Law today to find out more.
Resource:
consumerreports.org/cro/estate-planning/essential-steps-for-estate-planning