A Step-by-Step Guide for Closing a Florida Business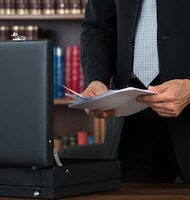 Closing their company is difficult for any business owner, especially if you have spent a significant amount of time, energy, and money into building it from scratch.
However, when it is no longer profitable to operate your business, dissolution may be the only viable option. Contrary to popular belief, it is not that easy to close a Florida business. For your convenience, we have prepared a step-by-step guide to make sure that you do it properly.
Contact a business litigation lawyer
Before you file any paperwork or even schedule a shareholders' meeting, it is best to consult with a Sarasota business litigation lawyer. You may have many unanswered questions regarding the dissolution of your business in Florida. Your lawyer will answer those questions and help you navigate the entire process properly from a legal standpoint.
Note: The rules and procedures for closing a business vary from one type of business to another, which is why it is highly advised to contact a lawyer and discuss your case. Schedule a confidential case evaluation with our attorneys at Suncoast Civil Law by calling 941-366-1800.
Schedule and hold a shareholders' meeting
If shareholders hold ownership in your company, you must hold a meeting to notify all shareholders of your intention to close the business. Typically, the board will vote on the issue of closing the business. Each shareholder will vote in favor or against the dissolution to determine how to proceed.
Usually, the majority of the shareholders must vote in favor of the dissolution in order to allow the owner to close the business. However, the procedures for dissolving the business may differ, which is why it is essential to review your company's formational and governing documents.
Identify the applicable articles of dissolution
You must also identify the right articles of dissolution for your business to initiate the process of closing your company. Your lawyer will help you review your company's "Articles of Dissolution" and fill them out in order to close your business.
The Articles of Dissolution must be signed in accordance with Fla. Stat. § 607.1403 unless your company has not started doing business or issued any shares. In that case, you must use the form set forth in Fla. Stat. § 607.1401.
Notify employees, creditors, and vendors
The next step involves the following:
Notifying your vendors and clients of the dissolution of the business;
Paying all outstanding fees, invoices, and taxes;
Paying all debts;
Completing all contracts with your vendors and clients;
Canceling all company credit cards;
Closing all bank accounts related to the business;
Terminating all business-related lease agreements; and
Notifying all your employees of the dissolution.
Pay the filing fee to close your Florida business
The final step to dissolve a company in Florida is to file the filing fee. You can pay the filing fee by using the website of the Florida Department of State, Division of Corporations.
If you are considering closing your business in Florida, the first step is to consult with an experienced business litigation lawyer. Schedule a case review with our attorneys at Suncoast Civil Law. Call 941-366-1800.
Resource:
dos.myflorida.com/sunbiz/manage-business/dissolve-withdraw-business/efile-corporation-dissolution/