How Do "Liquidated Damages" Work In A Breach Of Contract Lawsuit?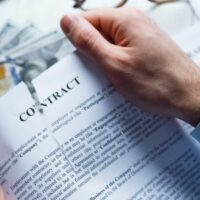 Business contracts depend on the good faith of both parties to perform their respective obligations. Of course, good faith is not always enough. If a breach of contract occurs, the non-breaching party will likely suffer some measure of legal damages. To address such contingencies, many contracts include a liquidated damages provision.
In its simplest form, liquidated damages is basically a contractually agreed-upon amount of compensation in the event of a breach. It is important to understand that liquidated damages cannot be used to punish or penalize the breaching party. Indeed, Florida courts will not enforce a liquidated damages provision that functions as a penalty.
The Florida Supreme Court has said that two conditions must be met before a judge can enforce a liquidated damages provision. First, at the time the contract was executed, the "actual damages that would follow from a breach must not have been readily ascertainable." Second, the stated amount of liquidated damages may not be "so grossly disproportionate to any damages" that may have been reasonably expected to follow from a breach.
In other words, liquidated damages are appropriate when it was impossible to precisely value the cost of a potential breach. But the amount of liquidated damages must be based on a reasonable estimate of the non-breaching party's losses. If a breach might cost a party $50,000, for example, they cannot ask for liquidated damages of $2 million.
Federal Court Refuses to Enforce $2 Million Liquidated Damages Provision
Here is a practical illustration of how courts enforce the Florida rules on liquidated damages. This case, Circuitronix v. Kinwong Electronic (Hong Kong), is based on a federal lawsuit. The parties are a Chinese-based manufacturer of printed circuit boards (Kinwong) and a Florida-based distributor (Circuitronix). In 2005, Kinwong signed a contract giving Circuitronix the exclusive right to distribute its products to Circuitronix customers. After a dispute arose between the companies several years later, they signed a second "settlement agreement" that included a liquidated damages clause. In the event of a breach, Kinwong agreed to pay Circuitronix $2 million for each breach that Kinwong caused.
In 2017, Circuitronix sued Kinwong, alleging breach of the settlement agreement. Before the trial, a federal judge forbade Circuitronix from seeking liquidated damages, holding the clause unenforceable. A jury ultimately returned a verdict for Circuitronix, awarding it $1 million in actual damages.
Both parties appealed to the U.S. 11th Circuit Court of Appeals. The appellate court affirmed the verdict. It also upheld the trial judge's decision with respect to the non-enforceability of the liquidated damages provision. The Court explained that the contract failed to meet the second condition spelled out by the Florida Supreme Court–i.e., it was "grossly disproportionate" to any actual damages that could have been reasonably anticipated when the settlement agreement was signed. In this case, Circuitronix admitted that the alleged breaches were worth, at most, about $10,000 per violation. The 11th Circuit said that clearly could not support a liquidated damages award of $2 million per violation.
Speak with a Florida Breach of Contract Lawyer Today
If you are involved in a breach of contract matter, it is crucial that you seek out experienced representation from Sarasota business litigation attorney. Contact Suncoast Civil Law today to schedule an initial consultation with a member of our team.
Source:
scholar.google.com/scholar_case?case=13528843687679178140