How Florida Businesses May Be Sued For Firing "Whistleblowers"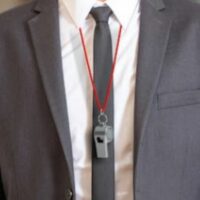 Generally speaking, a Florida business can fire an employee for any reason, or even no reason at all. Of course, the law does make a number of exceptions. For example, you cannot fire an employee because of a legally protected characteristic, such as race or sex.
You may also be liable if you fire an employee who engages in what is considered "whistleblower" activities. Basically, if an employee discloses–or threatens to disclose–any potentially illegal activity on the part of the employer, that employer cannot take any retaliatory action. For example, if an employee threatens to report the employer's possible violations of state regulations to the appropriate agency, that would be a protected whistleblower activity.
Florida Appeals Court Tackles Definition of "Public" Corporation
Florida's whistleblower law only applies to certain employers–specifically, any "private individual, firm, partnership, institution, corporation, or association that employs ten or more persons."
The Florida Fifth District Court of Appeals recently addressed a situation where the exact scope of this definition of "employer" came into question. In this case, the plaintiff worked for the defendant, Halifax Staffing, Inc. The plaintiff alleged that during his employment, he learned that Halifax was overcharging the government for services rendered to Medicare and Medicaid patients. When he reported this to his bosses, they fired him. The plaintiff then filed suit under Florida's whistleblower law.
This might seem like a cut-and-dry case, except that Halifax denied it fell within the statutory definition of "employer." More to the point, the law only applies to "private" corporations and actors. Halifax said it was a "public" employer not covered by the act.
As the Fifth District detailed in its opinion, the Florida legislature created a special taxing district to oversee the Halifax Hospital Medical Center. The taxing district also had the authority to establish other corporations under its control. The Florida Attorney General later told the district it could "create a not-for-profit corporation to provide employee staffing and management services." This led to the creation of Halifax Staffing, the plaintiff's former employer.
A divided Fifth District, affirming a circuit court's earlier ruling, held that under these facts, Halifax Staffing was not a "private corporation" subject to the whistleblower law. Not only was Halifax Staffing under the "direct control" of the taxing district, its board was composed of "members appointed by the Governor to the District's board." One judge on the Fifth District panel dissented, arguing that only a corporation created directly by the state legislature should be considered a "public" corporation, and therefore Halifax Staffing should be treated as a private corporation.
Contact a Florida Business Litigation Lawyer Today
There are many types of disputes that can land a business owner in court. If you have been sued–or are thinking about suing someone yourself–it is important to seek out competent legal advice from a skilled Sarasota business litigation attorney. Contact Suncoast Civil Law today to schedule a consultation with a member of our team.
Source:
5dca.org/content/download/828431/opinion/202201_DC05_02112022_081503_i.pdf