Kanye West Lawsuit Highlights Contract Breach In Rental Contracts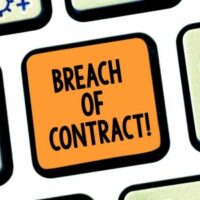 Kanye (Ye) West was recently sued by a Florida business for breach of contract after he "refused to pay (Plaintiff) for the reservation, customization, and use of its rental space as a recording studio."
The space in question is a "shoppable showroom" with curated art collections and other design and furniture pieces. The diverse collection is intended to serve as a rental space for private events in Miami Florida.
The suit alleges that Ye's General Manager acted as an Agent of the celebrity rapper and was authorized to act and make agreements on Ye's behalf. The Agent confirmed with the owner of the space that Ye would rent the space for 25 days at five thousand dollars a day. Ye requested various customizations be made to the space, and the Plaintiff immediately mobilized staff to carry out the allegedly costly customizations.
The Suit claims that at every stage all costs and expenses were approved by Ye/his Agent, and that the parties came to an agreement via text message and phone conversation that the Plaintiff would receive a rental fee of $5,000 per day, money to cover moving expenses of $20,000, and $813.00 to cover the purchase of some chairs. After the agreement was struck the Plaintiff allegedly continued to customize the space to Ye's specifications and various artists began using the space as a recording studio.
The Plaintiff now alleges that Ye owes them $145,813 and has not paid them any money whatsoever. As a result, they have brought suit alleging breach of contract. Ye has not yet publicly commented on the suit.
While it remains to be seen what will come of this latest suit, it does serve as a reminder that a properly executed rental agreement/lease is a contractually binding agreement. This article will outline a few basic concepts of commercial leases and contract law to keep in mind.
What is a Commercial Lease?
A commercial lease is an agreement that amounts to a contract between a landlord and a business to rent out a property for the purpose of conducting commercial business (frequently, this constitutes office buildings).
What Should a Written Commercial Lease Include?
Commercial leases should be written in plain language to help ensure that all parties understand the various rights and obligations created under the lease. The lease should include such things as
Names of the lessee and lessor,
A description of the property to be leased,
any negotiated terms of the lease,
a specified amount of rent to be paid,
a statement conveying that both parties are in agreement to enter the lease
Can I Break a Commercial Lease?
A commercial lease is a contract and will generally be treated similarly. Before you sign a lease agreement, ensure that you really read and understand the provisions of the contract. While it is not the general standard, exit clauses may be included, or negotiated to be included prior to signature.
The landlord and tenant may jointly agree to end the lease – a concept known as "surrendering the lease." While a landlord has no legal obligation to agree to such a surrender, if you really need to end your lease it is a possibility that warrants exploration. A more common solution is to assign your lease to a new party – this transfers your rights and responsibilities to a new party. However, you will want to ensure you understand any rules surrounding assigning your lease. Some landlords may not consent to it, or may require certain steps to be taken first.
Contact Suncoast Civil Law
If you have a breach of contract or landlord/tenant issue, contact the Sarasota civil litigation attorneys at Suncoast Civil Law. Our experienced attorneys can offer invaluable guidance and help you strategize your best steps moving forward.
Sources:
upi.com/Top_News/US/2022/10/28/kanye-west-sued-contract-breached/3961666981924/
leg.state.fl.us/Statutes/index.cfm?App_mode=Display_Statute&Search_String=&URL=0000-0099/0083/0083PARTIContentsIndex.html