Making Your Florida Estate Plan "Doomsday Ready"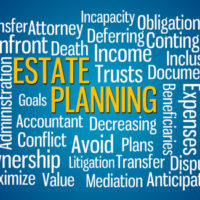 Florida has unfortunately seen its fair share of devastation from Hurricane Michael and other hurricanes, resulting in absolutely terrible losses. Truthfully, losing everything in an instant can happen to anyone, at any time.
Because of circumstances like these, everyone should have a plan in place in case they are suddenly forced out of their home and have to  rebuild their lives. There are a number of steps you can take so that you are ready for something like this, as we discuss below.
Get In That "Emergency" Mindset
In order to truly get in the mindset of what would happen if disaster were to strike, think about what, specifically, you would have to do if you were relocated to a shelter and had to start putting your life back together, and then what information would be necessary in order to do that.
Fortunately, trusted advisors—such as your estate planning attorney—will have copies of some of the most important documents; or at least those that they have assisted you with, such as your will and trust. Still, your attorney should also provide you with copies of your estate planning documents after they are signed, and these should be kept in a secure spot, along with other items we discuss below. 
Storing Account Numbers & Passwords
First and foremost, make sure you know where all of the important information is stored; as in, account information, passwords, email account information, etc. Whether you are the type of person who uses online-based storage (like cloud-based technology), or paperwork in a safety deposit box, or both, just make sure that you have something in place. You may also want to consider more than one storage spot and separating account numbers and passwords for security purposes.
Contact Information & Important Legal Documents
In addition to account numbers and passwords, contact information for any important advisors (attorneys, financial advisors, insurance policy contacts, etc.) should also be kept in a safe place, along with copies of important legal documents, such as powers of attorney, deeds, health care proxies, HIPAA waivers, copies of insurance policies (auto, home, life, etc.), titles to important assets, trusts, wills, etc. All of these should also be stored in a safe place.
Tax Returns & Medical Information
What surprises many people is the fact that you should also have copies of the last three years of tax returns stored, if possible, as well as any important medical information, including contact information for important medical providers (such as primary care physicians) and prescriptions.
Contact Our Florida Estate Planning Attorneys
Estate planning doesn't just involve setting up a will or a trust—it's having a plan in place in case the unexpected hits. And in Florida, the unexpected is always a possibility. Contact our Florida estate planning attorneys at Suncoast Civil Law to have a conversation about your plans today. We are here to help you and your family feel secure.
Resource:
forbes.com/sites/christinefletcher/2018/12/03/how-to-make-your-estate-plan-doomsday-ready/#6eadc1a0a16d
https://www.moransanchylaw.com/the-eight-most-essential-estate-planning-steps/