Naming A Minor As A Beneficiary: Why It Might Be A Mistake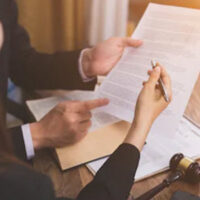 The most pressing matter on nearly everyone's mind when they go to establish their estate plan, is that they want to ensure that they are properly preserving assets for their descendants. While the desire to have our estates go directly to the enjoyment and benefit of our children or grandchildren is only natural, under Florida law it might be a mistake to name a minor child as a direct beneficiary of a will. This article sets out to discuss why naming a minor as a beneficiary could be problematic, and offer potential alternatives to those individuals who truly do want to ensure that a minor will gain the benefit of inherited funds.
Guardianship laws
If the minor inherits over $15,000 then Florida law may require that a guardian ad litem be assigned to the minor in order for the minor to access the inherited funds. A guardian ad litem is an individual whose profession is to stand for the best interest of the child in certain court situations. While these professionals are valuable and have their place in the court system, paying the associated fees to have one assigned in your case will not be necessary if you do not name a minor as a beneficiary.
Lack of Structure
 The legal age of adulthood in this instance in the U.S. is age 18. If an estate plan is set up so that a minor will inherit funds at the age of 18 – there is a great likelihood that much of that money could slip through the cracks. If you truly do not care how the money you leave behind is spent then this will not be an issue. However, if you want the money to be used to fund anything specific – such as education, a home, medical expenses, etc., then there are better alternatives available that will allow you to better direct the terms of the inheritance.
Unintended Consequences
 Inherited funds factor into the individual's financial profile once they turn 18/inherit. These funds can be seen by creditors (and they can have access to that pot of money). The funds would also factor into any needs-based calculation for educational scholarships the individual pursues.
Alternatives
So, we know from the discussion above that there are some pitfalls involved in naming a minor as a beneficiary in a will. What are some viable alternatives?
Protective Educational Trust
These trusts allow you to appoint a trustee to oversee trust funds that are intended for children or grandchildren.
Consider utilizing other Revocable or Irrevocable Trusts
Revocable and irrevocable trusts can be tailored in thousands of different ways. They are a great tool for estate planning as they allow you a greater measure of control in dictating the terms of how beneficiaries will inherit, when they will inherit, and what terms would have to be met before inheritance took place. Properly structured funds would allow you to avoid many of the pitfalls outlined above.
Contact Suncoast Civil Law
While every estate is different, every person wants to ensure that their hard-earned legacy is left to those who we value the most. The experienced Sarasota wills & probate lawyers at Suncoast Civil Law are standing by to discuss your estate plan or probate matter. Contact our office today.
Sources:
Statutes & Constitution :View Statutes : Online Sunshine (state.fl.us)
Declining an Inheritance (investopedia.com)