Protect Against Construction Defect: Common Terms To Watch for In Construction Contracts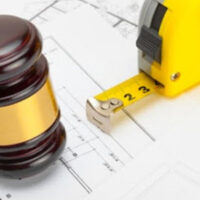 Whether it is a dentist filling our cavity, a mechanic at an auto-shop replacing the transmission, or an architect/construction engineer building our new home: in life, we hire and trust professionals to do a good job completing a task that we cannot do ourselves, or do not have the time to do.
When we agree to have a professional perform work we very often sign a contractual agreement. These agreements will typically contain the terms of the agreement. It should define the scale and scope of the work that the professional will be performing, state what consideration they will be given (pay), and speak towards how to settle any future disputes. Many professionals, builders included, present this form as though it is a "take it or leave it" situation. However, if you try to negotiate then very often builders are willing to negotiate certain points of these contracts. And do not be mistaken – these forms ARE, usually, binding contracts that you should expect will be upheld in court, if an issue arises.
Given that these forms are contracts, it is important that you ensure you understand the terms of the agreement you are signing. If your builder is unwilling to work with you to change any terms you are uncomfortable with, you may want to consider yourself on notice that it may be time to look for a new builder. At the very least, by understanding the terms in the contract you sign, you will know what, precisely, you are agreeing to. Builders can include terms in their contracts that act to limit remedies available to homeowners and can limit homeowners' rights.
Below see a discussion of three common terms you may see in construction contracts, and what they could mean for you.
Waivers and Exclusions (think "disclaimers")
Many businesses will try to disclaim as much responsibility for future problems as they can. Florida law guarantees certain implied warranties if there is no written agreement between builder and owner. Many builders write into their contract language that disclaims as many warranty protections as possible. Make sure you understand the waivers and exclusions being built into your contract
Change Order procedure
Standard builder contracts often include change order terms that favor the builder. Review these terms and see if they will work for you. For instance, oftentimes homeowners will be charged a fee and have to gain the builder's permission if they want to make any changes to the scope of work. However, it is often built into contracts that if the builder determines that it is necessary to make a change (such as substituting a material) the builder is free to do so with no penalty.
Beware of "Substantial Completion" payment
Very often, construction contracts require homeowners to make their final payment upon "substantial completion" of a project. Construction disputes usually become apparent toward the end of a project, when builders may claim that they have met the stipulations of the contract and demand payment, even though the homeowner believes there is more to be done or flaws that need to be fixed.
Contact Suncoast Civil Law
It is vital to the assured success of a future project that you understand the terms of any contract you enter into before construction is underway. If you believe you would benefit from a legal expert reviewing your construction contract, or you are struggling with your building due to a construction defect, contact one of the Sarasota real estate litigation attorneys at Suncoast Civil Law for a consultation.
Sources:
leg.state.fl.us/statutes/index.cfm?App_mode=Display_Statute&Search_String=&URL=0500-0599/0553/Sections/0553.73.html
floridaphoenix.com/2022/02/11/bill-limiting-construction-defect-lawsuits-grows-a-little-friendlier-to-homeowners/