There Is One Regulation That Is Miserably Failing Consumers & Killing People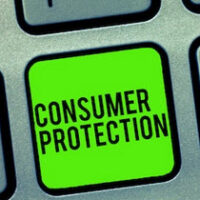 It is a horrifying, dangerous consumer safety and protection issue many of us thought was already resolved: Tip-over furniture accidents. In 2016, IKEA issued a recall of almost 30 million dressers and chests after the seven toddlers died in these accidents due to a design flaw which made them prone to fall forward. The furniture did not meet the voluntary safety standards issued by the Consumer Product Safety Commission (CPSC).
However, unfortunately, these nightmares are far from over: Children are continuing to die from IKEA furniture that topples onto them because the reality is that manufacturers are still the ones determining what is safe in terms of consumer products, not the government. And unfortunately, this issue isn't limited to furniture, but rather, all products.
"People Die Because of Section 6(b)"
Issues like these with various products can take way too much time to reach the public due to one section in the regulations that govern the CPSC. This provision – Section 6(b) – states that before information can be released to the public about a product, manufacturers must first have a chance to weigh in and negotiate what information exactly is released. Manufacturers can even go to court to block the information from being released entirely. Only if the CPSC determines that there is an "imminent safety hazard" can it override a manufacturer and release the information.
Many have likened the provision to a gag order: Even trying to obtain information via the Freedom of Information Act (FOIA) has resulted in nothing but redacted information. The commissioner himself – who remains at the post through October 2020 – has testified that "people die because of Section 6(b)." Still, the CPSC remains the only federal agency that operates under a rule like this dictating that manufacturers dictate when information goes public.
In 2016, IKEA entered into a settlement with a number of families who lost their children due to their furniture. Then, just this month (January), another settlement in the amount of $46 million was agreed to over the death of a toddler killed in 2017. Still, the recall process moves forward slowly and information about a number of other brands that are causing these tragedies remains hidden. Before that, manufacturers will often do what IKEA did in 2015 and encourage those who purchased the items to anchor the units to the wall in order to render them safe for use (but no recall). The result is that products are released without going through safety tests, and they continue to be sold, even as children die.
Find Out More: Contact Our Florida Consumer Protection Attorneys
As of the beginning of 2020, there have been at least nine children that have died from chests and dresser defects alone. It is important to know that not only can consumers hold manufacturers liable for these incidents under product liability laws, but that there are also various federal and state laws that protect consumers. For more information, contact our Bradenton consumer protection lawyers at Suncoast Civil Law today.
Resources:
washingtonpost.com/business/economy/how-fisher-price-invented-a-popular-baby-sleeper-without-safety-tests-and-kept-it-on-the-market-even-as-babies-died/2019/05/30/78c2707a-7731-11e9-b3f5-5673edf2d127_story.html
cpsc.gov/Business–Manufacturing/section-6b-information-disclosure
chicago.suntimes.com/2020/1/10/21058713/consumer-product-safety-commission-section6b-ikea-dresser-fisher-price-inclined-sleeper-recalls
https://www.moransanchylaw.com/u-s-supreme-court-to-review-constitutionality-of-consumer-financial-protection-bureau/