Florida Company Caught Selling Consumers Bleach Chemicals as Cure for Coronavirus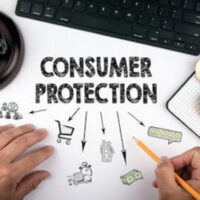 Another serious Florida consumer fraud and protection issue related to the coronavirus has recently plagued both the market and consumers.  On April 16, a federal judge ordered "Genesis II Church of
Health and Healing" and its associates to stop selling its "Miracle Mineral Solution," (also known as "Miracle Mineral Supplement," "Chlorine Dioxide Protocol," "Water Purification Solution," and "MMS"), which the company marketed as a cure for the coronavirus (the company also claims that the
product treats Alzheimer's, autism, AIDS, brain cancer, the flu, hepatitis, and multiple sclerosis).
According to the Justice Department, the product contains chlorine dioxide, a powerful beach that can make people very sick if ingested, as well as sodium chlorite and hydrochloric acid, which can cause diarrhea, nausea, and vomiting. The company was also served with a warning letter by the Food and Drug Administration (FDA) earlier in April, and ordered to respond within 48 hours regarding any measures it planned to take to remedy the issues identified by the agency. According to authorities, company representatives responded with "open defiance," stating that they would never "obey the law."
What The Law Provides
Florida has deceptive trade practices laws which declare certain acts and practices to be unconscionable,
deceptive and/or unfair, and thus unlawful, and allow citizens to bring private actions in court to recover compensatory damages as a result. Based on the language of the Federal Trade Commission Act, the courts generally consider a practice to be unfair if it offends public policy and is unscrupulous or substantially injurious to consumers.  Liability can expose parties to up to $15,000 per violation, and previous warning actions taken by the FTC and/or FDA can be used to demonstrate that the company had actual knowledge of the product defect and false claims 
FTC & FDA Send Warning Letters to Several Companies About Products Claiming to Treat Virus: Class Action Lawsuits from Citizens Likely to Follow
Sadly, this isn't the first—or only—company to engage in this type of practice: The Federal Trade Commission (FTC) and FDA recently identified a number of companies that have been allegedly selling unapproved products that may violate both federal and state laws by making deceptive claims about their ability to treat the virus.  In addition to the Department of Justice taking action against companies like these, Florida citizens have filed class-action lawsuits in conjunction with a number of companies preying upon the public's fear during the pandemic. For example, the makers of Purell were recently sued for making alleged misstatements in connection with their product being able to cure the flu and several other conditions. Warning letters from the FDA will inevitably play an important part in these cases. 
If You Live in Florida and Have Concerns About a Consumer Fraud/Protection Issue, Contact Our Attorneys to Find Out More
If you have been the victim of alleged false advertising, or false or misleading representations about a consumer good here in Florida, contact our Sarasota consumer protection lawyers at Suncoast Civil Law today to find out more about your rights when it comes to recovering full and fair compensation for any damages suffered.
Resources:
nytimes.com/reuters/2020/04/17/us/17reuters-health-coronavirus-fraud.html
ftc.gov/news-events/press-releases/2020/03/ftc-fda-send-warning-letters-seven-companies-about-unsupported
cbsnews.com/news/florida-church-coronavirus-bleaching-agent-cure-covid-19/
justice.gov/opa/pr/justice-department-seeks-end-illegal-online-sale-industrial-bleach-marketed-miracle-treatment
https://www.moransanchylaw.com/coronavirus-price-gouging-consumer-fraud-in-florida/