Historic Changes Are Coming for Estate Planning January Due to the Electronic Documents Act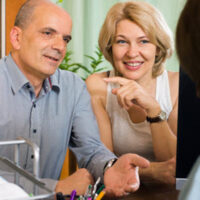 There are a number of important changes that Florida's Electronic Documents Act will bring to estate planning in the state as of January 1, 2020, when it goes into effect. Advanced directives, trusts, and wills can be electronically signed by the testator, while witnesses and the notary appear via FaceTime or Skype because there is no longer the requirement that they be present in the same room.
Below, we discuss the specifics of some of these new requirements for those interested in signing their wills and other documents electronically; with remote witnesses. The new law is relatively untested in general; warranting working with an experienced estate planning attorney if it is of interest.
Determining Whether the Testator Is Vulnerable
One of the requirements for those interested in this new option is to work with notaries that receive specific training in order to be able to determine whether a testator is competent or "vulnerable" at the time of execution, pursuant to Florida law. In order to ensure that they are not vulnerable, the testator must be asked very specific questions, including:
Whether he or she requires assistance with daily care;
Whether he or she is under the influence of alcohol, drugs, or anything else that could impair his or her ability to make decisions; or
Whether he or she has a condition or long-term disability that affects his or her ability to perform normal activities.
If the answer to any of these questions is "yes," the testator is considered "vulnerable" under the new law, and witnesses must be physically present with the testator at the time of execution.
If Testator Is Not Vulnerable & Witnesses Want to Appear Remotely
If it is determined that the testator is not vulnerable, and the witnesses are remote, the notary will also need to ascertain answers to the following by asking the testator questions:
If the testator is married, what the name of their spouse is;
Who, if anyone, assisted them with the video conferencing abilities that day;
Who, if anyone, assisted them in preparing the documents they are signing that day;
Where he or she is currently located; and
Who, if anyone, is present in the room with him or her at that moment.
Depending upon the answers to these questions, the testator can electronically sign the document, even with remote witnesses and a notary.
Custodian's Responsibilities
Once the testator passes away, the custodian must e-file the will. It is the custodian's responsibility to hold the electronic documents and video and abide by legal requirements ensuring that they are not tampered with. Custodians are liable for any negligent loss or destruction of these materials, and they must carry insurance in case certain issues arise.
Contact Our Florida Estate Planning Attorneys
Although electronic will signing is in progress in seven states, including Florida, these laws are still relatively untested, which means that it is important to work with an attorney who understands them if you are going to proceed with electronically signing your will and other documents. If you have any questions about estate planning in the state of Florida, our estate planning attorneys are here to help. Contact our Sarasota wills & probate lawyers at Suncoast Civil Law today to set up a free consultation and find out more.
Resources:
leg.state.fl.us/statutes/index.cfm?App_mode=Display_Statute&URL=0400-0499/0415/Sections/0415.102.html
floridabar.org/the-florida-bar-news/ewillsfinal/
https://www.moransanchylaw.com/estate-planning-documents-necessary-to-protect-your-college-student/